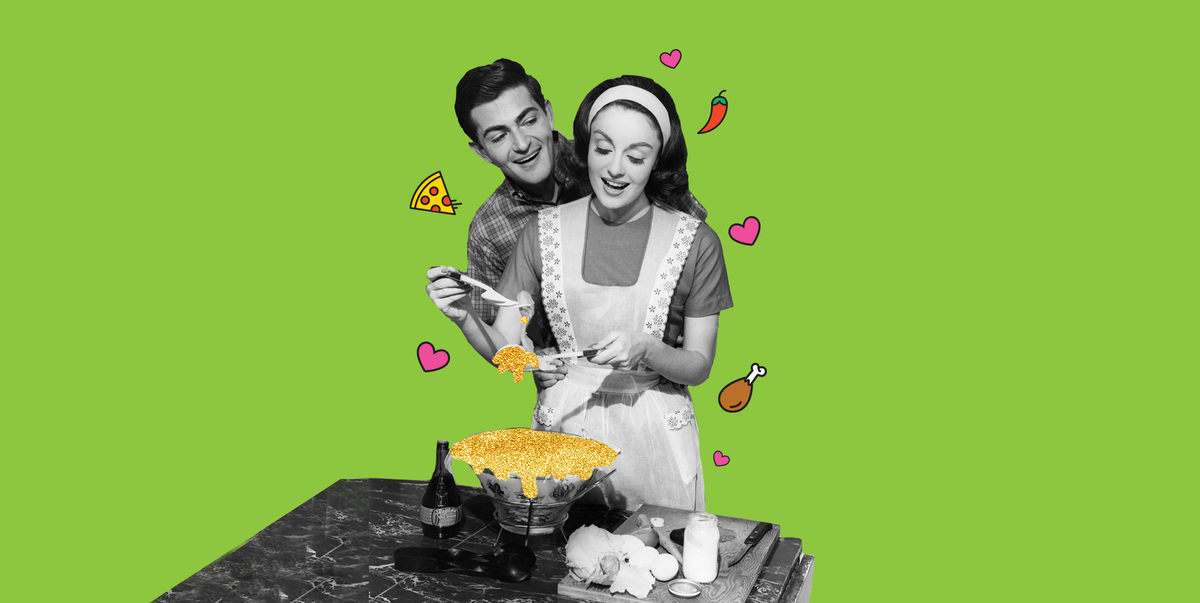 So it's approximately 6:00 p.m. and you're knee-deep in Pinterest, trying to find a meal you can make fast with stuff that isn't expensive or hard to find. Oh, and it also needs to seem somewhat impressive and romantic. This is basically the finale of MasterChef IRL you did not ask to be a part of.
Pretty much anybody can set up a few cute candles and set the mood with a sexual, The Weekend-heavy playlist. No problem there. But if you're attempting a beef bourguignon, chocolate soufflé situation—and you have exactly 45 minutes to execute—that's a problem.
* cue fire alarms, crying, sweating, and emergency takeout *
But that doesn't mean you have to pull a Mrs. Doubtfire and pretend you whipped up a Michelin-star-level meal (though, maybe keep that Seamless order on standby). Do-able, fancy-looking, delicious romantic dinners DO exist. We know because we scoured the interwebs to find them.
So if you're down to the wire and lacking an Ina Garten-level skills, take a breath, do a shot of tequila, and scroll through this list of romantic dinners you can totally cook. Our menu includes vegan options, lots of Italian things (mmmm pasta), a fancy grilled cheese, Thai curry, and so much (drool-worthy) more.
1 . Roasted Red Pepper Pasta
Minimalist Baker
This plant based dish only requires 15 minutes of prep, and the roasted red peppers add a delicious kick. Swap in gluten-free spaghetti if you or your bae can't handle the wheat.
Get the recipe at Minimalist Baker
2. Braised chicken
Half Baked Harvest
This Thai-Indian fusion dish is sure to impress, plus it's perfect if your locale is effing cold this time of year. The best part: It only takes 30 minutes to prep and cook.
Get the recipe at Half Baked Harvest
3. Mushroom Stroganoff
101 Cookbooks
If you're lucky enough to have an Instant Pot at home, this pasta dinner is your new best friend. Prego (that's Italian for you're welcome).
Get the recipe at 101 Cookbooks
4. Turkey Piccata
Andie Mitchell
Delicious turkey dishes don't have to be limited to the holiday season. Try this recipe out for a creamy, lean protein option.
Get the recipe from Andie Mitchell
5. Cauliflower Gnocchi
A Cozy Kitchen
This take on spaghetti bolognese is another tasty meatless option that comes together in just 30 minutes.
Get the recipe at A Cozy Kitchen
6. 20-Minute Spaghetti Carbonara
ETHAN CALABRESE
Impress your S.O. with these masterful noods: Cheese, bacon, carbs, and 20 quick minutes make this dish the easiest, tastiest trick up your sleeve.
Get the recipe at Delish.
7. Prosciutto-Wrapped Chicken for Two

HelloFresh
Sure, this meal might be what we like to call "project cooking"—a.k.a. it takes more than throwing together a frozen one from Trader Joe's—but if you can wrap a present, this is a piece of cake. Especially when you've got a PIC (partner in cooking, that is) by your side.
Get the recipe at HelloFresh.
8. Faster Steak Frites
DANIELLE OCCHIOGROSSO
Psst, wanna know the secret here? Frozen French fries! Cook your steak to perfection, and you're basically dining in a 5-star restaurant.
Get the recipe at Good Housekeeping.
9. Eggplant Florentine with Fire-Roasted Tomato Sauce and Toasted Ciabatta
Purple Carrot
This bad boy is ideal when one of you is a vegan and the other one wants to be supportive but really just wants a whole bunch of cheese. Luckily, this main can trick even the most diehard dairy lover.
Get the recipe at Purple Carrot.
10. Buffalo Chicken Bowl
Snap Kitchen
Try not to let your S.O. drool when their favorite game-day snack becomes a totally satisfying bowl of goodness.
Get the recipe at Snap Kitchen.
11. Tomato Paprika Soup with Hearty Grilled Cheese Sandwiches
HelloFresh
Grilled cheese + tomato soup = peak coziness. Up the wow factor by cutting the sammies into li'l hearts.
Get the recipe at HelloFresh.
12. Japanese Bento Box with Teriyaki Pineapple and Speckled Rice
Purple Carrot
For when you both want a little taste of everything—and an impressive-looking meal that takes less than 30 minutes to make, leaving plenty of time for everything else.
Get the recipe at Purple Carrot.
13. Totally Loaded Veggie Nachos
Kelly Peloza
Up your nacho game with this all-star riff on the classic plate. (Although this recipe calls for vegetarian-friendly alternatives, feel free to add some meat if that's your thing.)
Get the recipe from Kelly Peloza of Upton's Naturals.
14. Breakfast for Dinner
HelloFresh
Become bae's favorite short-order cook with a sweet (and cheap) twist on the breakfast classic. Serve with bacon, sausage, or home fries for extra lovin'.
Get the recipe at HelloFresh.
15. Thai Red Curry Shrimp
Kick off your special night with a dish that brings a little heat.
Get the recipe at Pass the Sushi.
16. Burst Tomato Pasta
Sitcom people are always running into trouble with their soufflés falling. Learn from their mistakes, and cook a dish where ingredients collapsing and falling apart are what make it taste good.
Get the recipe at Wonky Wonderful.
17. Chili Lime Steak with Roasted Vegetables
Steak is a go-to dish for a fancy meal—don't fight that. This oh-so-slightly elevated take is a great way to level up your night.
Get the recipe at Diethood.
18. Lemon Garlic Pasta
It's hard to mess up pasta, and this one has the advantage of being delicious without calling for a sauce that'll ruin the tablecloth you've never used before.

Get the recipe at Wonky Wonderful.
19. Truffle Oil Roast Salmon and Mushrooms
Bottom line? Truffle oil makes everything better.
Get the recipe at My Life Runs on Food.
20. Almond-Crusted Pork Loin with Red Wine Raisins
Soaking raisins in red wine not only makes them pair wonderfully with pork loin, it also means you have an open bottle of vino to sip from as you're cooking.
Get the recipe at Cooking with Books.
21. Coconut Shrimp with Sweet and Spicy Dipping Sauce
Having a romantic dinner with a picky eater? It happens. Happily, even the most selective palates will enjoy awesome fried shrimp.
Get the recipe at Cooking with Jax.
22. Spiced Sirloin Roast for Two
Few things are more impressive than a perfectly cooked roast, because it takes a little confidence to cook something that needs a thermometer to tell you its done. And nothing's sexier than confidence.
Get the recipe at An Edible Mosaic.
23. Roasted Pork with a Raspberry Gastrique
With its Frenchness, gastrique (a sugar and vinegar-based flavoring for sauce) can sound a little intimidating. So just call it "raspberry sweet and sour sauce," and you've got this. (Then call it gastrique when you serve it.)
Get the recipe at The Tomato Tart.
24. Baked Chicken with Tomatoes and Garlic
You know whats the last thing you want to do after a romantic dinner? Wash dishes. This baked chicken is delightful and keeps the washing to a minimum.
Get the recipe at Brooklyn Supper.
Elizabeth Stark
Elizabeth Stark is a food writer with a passion for seasonal food, great desserts, and inadvisable wine pairings.

Source